Pericom Semiconductor Corporation
Enabling High-Speed Serial Connectivity
Project Summary
Complete responsive site restructuring, redesign, redevelopment, and redeployment from the ground up. The new site sits on SilverStripe's MVC framework and CMS, integrates with Pardot's marketing automation services, and imports product data from Pericom's Oracle ERP system and their resellers' inventory.

Lightning-Fast Product Finder
SilverStripe enabled us to manage complex data objects and relationships, including Pericom's many thousands of products and product options. To help visitors find the products they were looking for, we built a customizable faceted filter system for the product family pages using Ractive.js. Pre-loading the products and doing all the filtering with Javascript means the filtering is instant, with no page refreshing.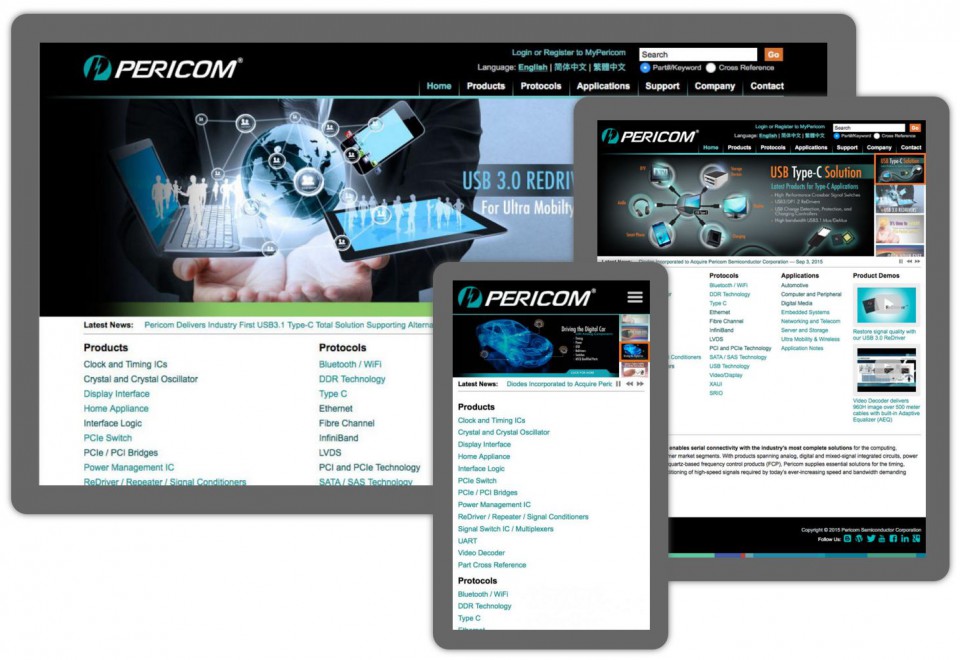 Fully Responsive Design
Pericom's customers are extremely tech-savvy hardware engineers, so the site needed to be responsive through and through. All aspects of the site were designed to work on touch and mobile devices first, then enhanced to take advantage of larger viewports and other input tools when available.

Advanced Multi-Content-Type Search
Pericom's site has products, downloads, quality reports, FAQs, application notes, regular pages, and more. We created a custom search solution that searches across all these different content types, using appropriate matching logic for each type. The results are then grouped together on a summary page, and also broken out into tabs to make it easy to find exactly what you're looking for.

Pardot/SilverStripe Membership Synchronization
We extended SilverStripe's flexible membership model to integrate with Pardot's prospect gathering system. Now new user registration, profile updates, and other changes in the member data on the site automatically get synced with Pardot.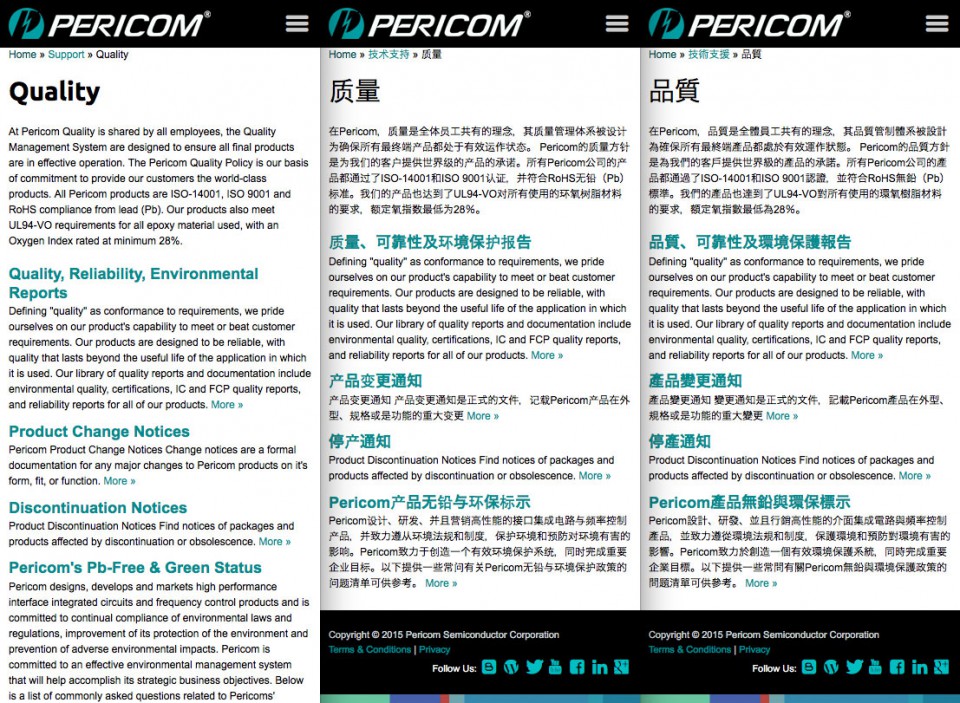 Internationalization & Localization
Pericom serves clients in the US, China, and Taiwan. We implemented a special customized version of SilverStripe's multi-language and localization features and modules to enable content editors to manage content in English, as well as Traditional and Simplified Chinese. There's also the option to add more languages in the future.